This is going to be quite a lengthy post and I would appreciate detailed feedback so the Developers can see how the community feels.I wanted to stress the significance on a major aspect of the game that I feel is missing. I don't know exactly what ranks highest on the list for DVG to work on but I believe some things need to have a higher if not the highest priority right now.
Content vs Goals: (e.g. leaderboards/matchmaking/team balance/ranking/titles/flairs/cosmetics)
As much as I like new content such as a new class/map I don't believe this is what is of the most importance right now. I am currently very very worried about the relaunch that is planned. The reason why is because nothing has really changed. Yeah a new class is coming out, new map, armor set, that is cool but people will play for a week at most and then quit because the only thing implemented is playing for pure enjoyment. It seems like DVG wants Forge to be more of a casual pvp game, sort of like TF2, but the games very nature is that of a hardcore pvp game. No systems are in place to support this aspect of the game.
I believe the biggest flaw of Forge is not having a Ranking que/system. There really is nothing to earn, no real competition, no way to see improvement or something to get you involved in the community like teams/guilds. Most of the people that decided to buy this game and played the game are big PvP'ers from games like WoW, Guild Wars, League of Legends, Dota. Analyzing why so many people play these games is important. I believe the community is so small on Forge and people quit the game to go back to these games because they offer a competitive level that Forge does not have.
Each of these games has a Ranking System and give players different goals to strive towards and try to attain by increasing in rank.
Lets look at wow.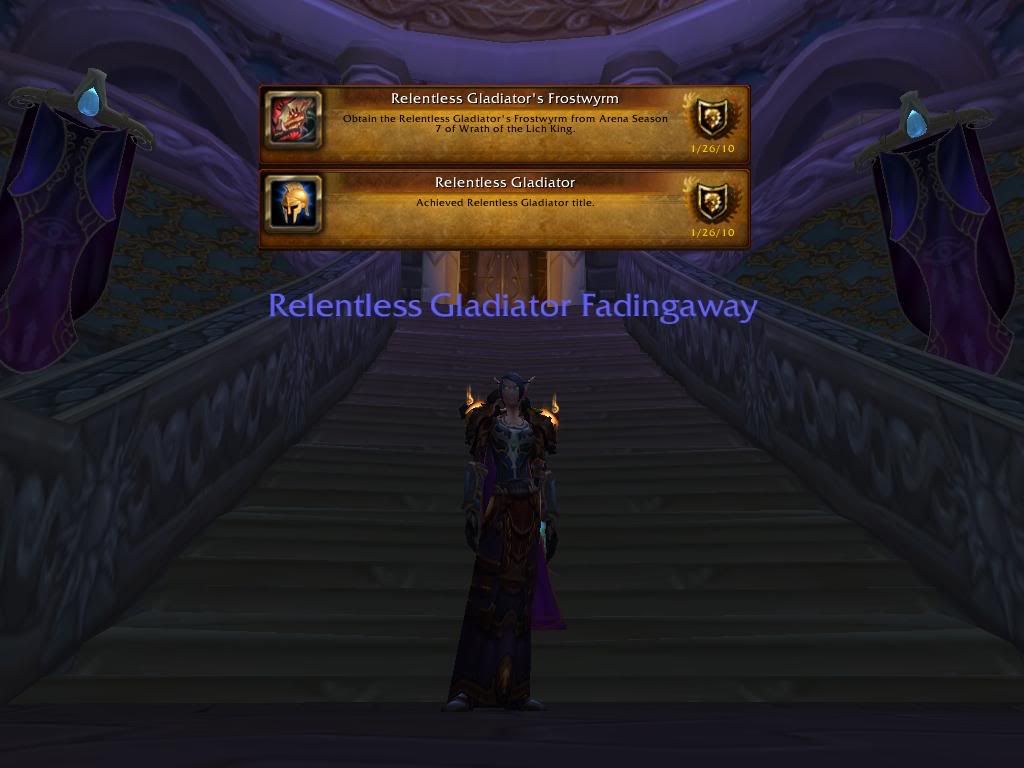 People go absolutely crazy over little things like titles. Currently you just earn a title for leveling up..... No one cares about it because it does not mean anything you did not earn anything because all you did was play. The title is not important and there is no importance of getting a title.
In wow arena/battleground you make a team and play and try to win to earn these types of things. The top .5 percent of teams earn the Gladiator title. The top 3 percent earn the duelist title etc etc. When you get to a certain rating the color of your armor changes so that you can look different for being a good player. This creates competition and people will seek to earn these things and form teams/guilds.
Lets take a look at League of Legends
This is all that LoL offers and people go absolutely nuts over this. The biggest game right now just displays different tiers to try and achieve. This allows people to know that they are actually improving at the game and can try to better themselves by listening/watching/asking questions from the higher tiered players. It's not that much it just shows other players where you stand compared to them and its nice and shiny. People love shiny things! People strive for bragging rights and personal improvement.
Ranking/Matchmaking/Cosmetics/Titles all need to be on the top of the list for implementing and working on. The game does not have a staying factor because of a lack of this. The leaderboards that are in place now are all bugged and does not represent anything. Leaderboards of that nature should be monthly and are more about oh I did that much cool. Having monthly leaderboards will not demoralize new players seeing never reachable stats. A new player can look where they are for the month and then see how they stand next month to ascertain whether they are improving or not.
People want to be the best at something it is human nature we are competitive. In Forge there is nothing to strive to achieve so people quit because it is just playing you do not get rewarded for being good. People that just want to play a game casually play single player games with a story and that is fun and the reward of that is a story line and exploration usually.
I try to tell my friends about this game and they ask me questions about what arena is like, Is it competitive, do you have cool armor. I can't really tell them about the game because it just sounds unsatisfying.
Me: yeah there are arenas but its just for fun
Friend: Oh what is your highest rank are you good?
Me: Im good but no ranking systems... but I'm good
Me: I won a weekend tournament
Friend: what did you get?
Me: oh it was for fun
Me: I have like 99 titles though
Friend: Awesome man how you get those?
Me: I played a lot
Me: They did quite a few contests that were pretty cool!
Friend: Nice you win?
Me: Yeah I got a 300 dollar headset and a t shirt!!!!!
Friend: Awesome how is the headset? What did the T-shirt look like?
Me: Oh I have not recieved them yet but it's been 3 months should be soon.
Friend: Come play ( Other Game ) man
I can't really relay how awesome this game is or could be there is so much potential that this style of game bring and I have invested so many hours into it and played so much because well these things will be implemented soon. I just want to stress how important it should be over everything else. There was a sale and about 600 people playing but next week everyone quit. Yes classes/maps made the game seem dull a bit and that content does need to come out but if you release that content without the staying factor people will just quit. I am so worried about this big relaunch that is planned because I think it will just turn out to be: new class cool, new map cool, people play it then quit seeing not much else has changed.
If you implemented a ranking system with rewards people would have something challenging them, something to work towards. As an example if I was in a game and lets say I was playing a Pathfinder and I had the same exact modeled bow that everyone has but mine was black or glowing. People would be asking how did you get that? That looks awesome! To where I could respond I won arena season 1 or something of that nature. * Bam * people figure out you can look awesome by winning different seasons in ranked. People stick around form teams/guilds they research the game tell friends about it and sign up for season 2 so that they can win something and look awesome. You just intrigued them and they are going to stick with the game. Solo player progression is an important thing to mention as well. LoL has this solo player experience to get them started in a competitive scene through the solo/duo que in ranked. This is important because it gets them started in the right direction and when they feel that they have improved they can form a team for other titles/rewards/ whatever it may be that is implemented.
There are a lot of tweaks that need to be made such as in game server browser and some polishing but right now I feel that everything I mentioned above should be the main issue to address.This post is quite lengthy and I probably missed some points I really wanted to touch base on, but I wanted to get this out there because this is a major concern and I don't want the game to die. I want to bring this to the Developers attention so that they can assess this issue and bump it up on the To Do List.
I am not saying that what the Dev's have done so far has not been great additions to the game or were not important. Everything that is under development is important. I am just trying to stress and bump the priority of this particular aspect of the game that is missing.
I hope this gets a lot of feedback from the community. Please like and give a detailed response if you feel the same way. Also don't stray off subject by posting suggestions/ideas for other topics of the game. I feel that this is the most important thing that needs to be incorporated in the game and would like posters to improve upon my post if need be.